Also available in 600g refill (spoon not included)
Easy dosage. Highly palatable. 250 or 600g jar.
Formulated by Dr G.Blanchard, European Specialist in Animal and Comparative Nutrition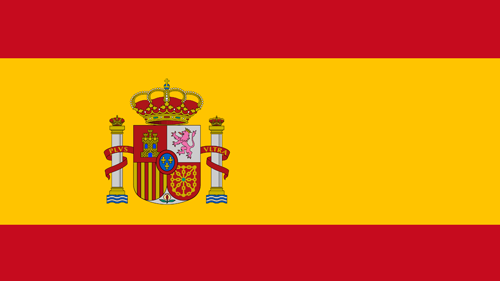 ESP
Haga clic aquí para más información sobre Vit'i5 Orange en castellano
Si desean un envío a España, Contacte con nosotros!
_________________________



Vit'i5 Blue

is specifically formulated by our Veterinary Nutrition Specialist to bring necessary minerals and vitamins and balance the homemade diet* of dogs and cats.
It is the only supplement with calcium, vitamins and trace elements (and no added phosphorus,only those naturally present in brewer's yeast) formulated to balance a homemade diet (meat / fish + Vit'i5 Blue + rapeseed oil + vegetables +/- carbohydrates +/- dairy +/- treat) for the followings
– Healthy Senior dogs and cats, from 8 years old, as they need all micronutrients (calcium, trace-elements and vitamins) but less phosphorus than young or adults,
– Dogs and cats of any age in every situation where they need less minerals and less phosphorus, but still calcium and all micronutrients: Chronic Kidney Disease, renal or heart failure. Calcium and other micronutrients are still essential to cover their nutritional needs, but Calcium also helps to limit the absorption of the phosphorus, drive Phosphorus to feces which limits the phosphorus eliminated in kidney and urine, and thus preserve the residual renal function as long as possible,
– Dogs and cats of any age with a history of urolithiasis, (Calcium and other micronutrients are still essential to cover their nutritional needs even in case of calcium oxalate urolithiasis, but the amount of Vit'i5 is adjusted (reduced, in order to provide a calcium:phosphorus ratio of the final total recipe to a value just greater than 1, while minimizing the total intake of minerals), as indicated in urinary health after episodes of lower urinary tract disease.
_________________________
Indications
ESSENTIAL to balance the HOMEMADE DIET (meat +
Vit'i5 Blue
+ rapeseed oil + vegetables +/- carbohydrates)
of DOGS & CATS (dosage to be adapted depending on the situation)
>
Health Senior over 8 year old
>
At any age
, when a restriction in phosphorus or minerals is necessary:
chronic kidney disease
(CKD) and
history of urolithiasis

_________________________
INDICATIVE dose, COMPOSITION, AVERAGE ANALYSIS
(cf. product images)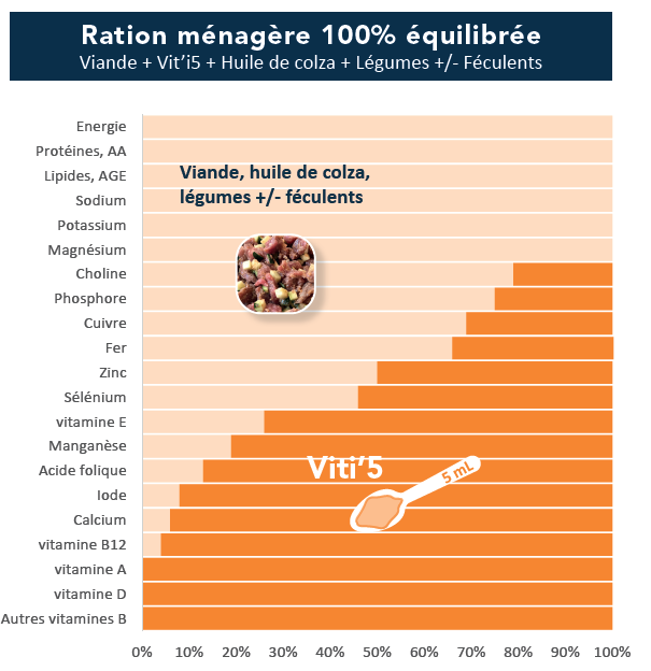 A home made diet lacks certain micronutrients (minerals, vitamins, trace-elements) even if the dog or cat consumes a little cheese, yogurt or milk, vegetables, brewer's yeast. It is essential for their health to provide them with Vit'i5 Blue every day, so as to continue to provide the vitamins and trace elements that are essential each and every day.
Vit'i5 Blue is a full ingredient in the household diet (Vit'i5 + Canola Oil + meat + vegetables + carbs).
It contains Calcium, 6 trace elements (Copper, Zinc, Selenium, Iodine, Manganese, Iron) and 12 vitamins (A, D, E, B1, B2, niacine, B5, B6, biotine, Folate, B12, Choline), in order to cover the requirements of cats and dogs fed a homemade diet.
Mineral and Vitamin requirement must be covered to ensure health, balance and vitality of dogs and cats.
It also contains taurine in case the meat is overcooked or from can (as taurine is destroyed by heat), as well as yeast wall, source of Manno-Oligo-Saccharides and beta-glucans, for better digestive comfort and resistance.
The Vit'i5 range contains no coloring agent , no preservative, no added flavor, no palatability agent, no animal protein, no salt no sugar. It is therefore indicated even for very sensitive, allergic or diabetic dogs and cats.
Average analysis is the analyse of the product. Calcium, trace elements, vitamins are added to reach the warrantied amount listed on the label. Breawers yeast is a naturally palatable base, it contains is a natural amount of protein, fat, minerals… but the amount of Vit'i5 added to the diet makes these amounts very small compare to the requirements in protein, fat… and can be neglected. The important part of Vit'i5 is the amount of micronutrients (calcium, trace elements, vitamins)
_________________________
Instructions for use, preparation and storage



* First mix Vit'i5 Bleu with canola or soybean oil, then add the chopped cooked vegetables, then add the meat or fish filet. This mixture can be stored in the refrigerator for 24 hours, or frozen in daily portions, which will be thawed in the refrigerator overnight for the next day.
If it is in the recipe, the carbohydrates (rice, potato… source of energy from starch) will be cooked on the day of distribution, then mixed with the fresh or thawed mixture. The final complete shall be kept in the refrigerator for 24 hours maximum.
* Plan to split the daily amount in 2 to 3 meals per day for a dog, and in at least 4 meals per day for a cat (one or two in the morning, at noon or when returning home, one or two in the evening, depending on your availability).
Reheat a meal by adding a few spoons of warm water if necessary – do not thaw or reheat or cook in the microwave or in a pan.
Vit'i5 jar can be stored in a cool (under 25°C) ambiant temperature, or in the fridge. Must be preserved from water. Once opened, if properly stored, Vit'i5 powder can be used in the 3 months after opening.
_________________________
Frequently asked questions about Vit'i5 :
Find the most frequently asked questions about Vit'I5.
_________________________

Downlown our flyer (in French) through the download tab above